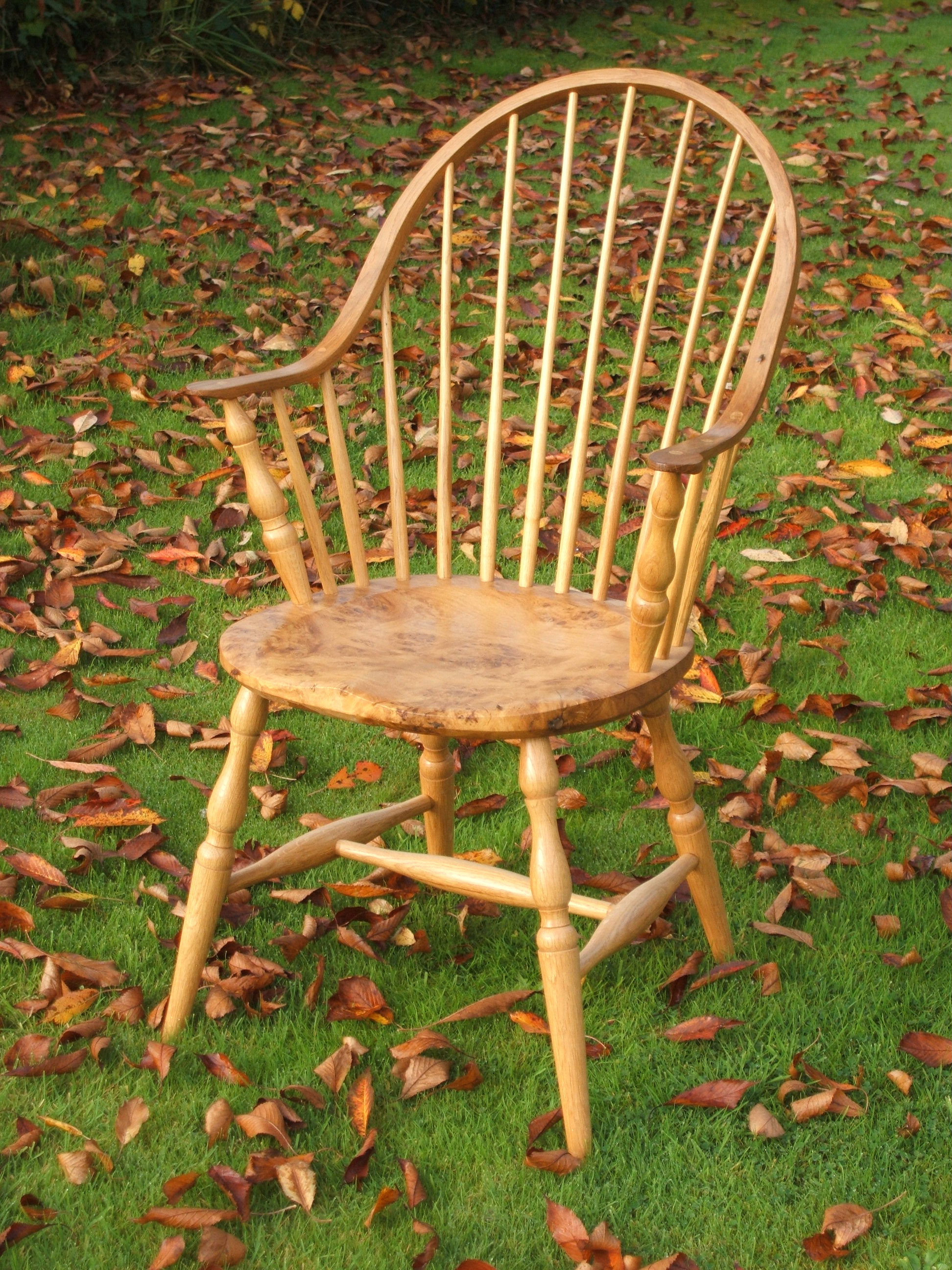 Windsor chairs individually hand made by Colin Foxhall, a specialist Windsor chair maker, using local hardwoods including Oak, Ash, Beech and Elm. My country furniture includes both traditional and modern English and American chairs, like lath back, sack back, continuous arm, and stick back Windsor chairs, some of which you may not often have seen in the UK. I now consider myself to be "semi-retired", and enjoying chairmaking at a much reduced pace, so lead times may be a bit longer than they used to be.
Click on the picture or here for Windsor Chair pages .
Chairs from stock page listing all the Windsor chairs I have here, ready now.
Workspace to rent in Tavistock.

The Workspace to Rent in Tavistock page gives details.

Commer Karrier Bantam spares for sale.

The Commer Karrier Bantam spare parts page gives details.

This website last updated: 6 April 2016.

Location - Barnlands, High Street, Spaxton, Bridgwater, Somerset TA5 1BT, in the South West of England.

Telephone - Ol278 67lO27or from outside the UK +44 l278 67lO27

Electronic mail address - colinwindsorchair.co.uk (to reduce spam this is not an active link so you will need to type this address in full in the "to" box of your email)

This is the Foxhall's website, kept simple for your convenience, and to save your time and ours. If you think this site lacks some of the polish of the professionally produced article, you would be absolutely right, but it does have all the information you need, and ranks pretty well with search engines. We hope you like the simple format and will enjoy reading our web pages, which are all accessible to automatic text readers, and contain no sounds, moving images or other fancy features. Any helpful comments about the pages will be gratefully received.

Note to Search Engine Optimisation companies......................I like my website this way. Yes I know it's old fashioned. No I don't need to sell more stuff. It is self evidently bad business and a waste of your time to ask me if I want your services, but thank you for reading anyway.

Website design and promotion by Colin Foxhall.

Copyright of all items (except where noted otherwise) belongs to Colin Foxhall. All rights reserved

Industrial Unit to Let at Treburley
Go To:-