Some random testimonials
Here's what a few of my clients have had to say....................
From near, by letter......
Ottery St Mary,

Devon

8th May 2004

Dear Colin,

Please find enclosed two transparencies of the chairs you made for us, in situ. I hope you agree they look rather spectacular!

We and all our friends are still enjoying the comfort they provide and the proof of that is that no one ever gets up from the table except late in the evening to go home!

If you are going to the County Show this year perhaps these can be of help to the display on your stand.

Regards

J. Kyle Hayes
From far, by postcard......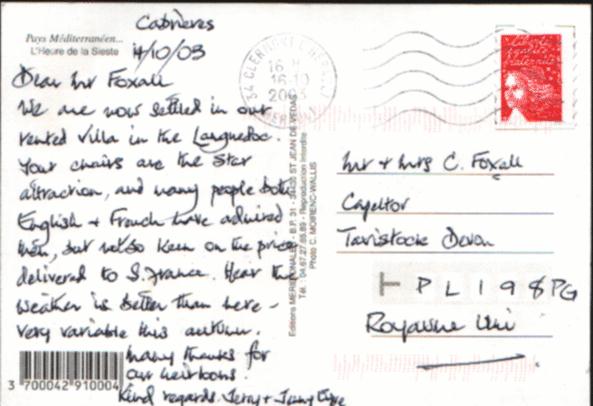 .
And from the home of Windsor chairs, by email........
Marjorie and Martin Stockley

High Wycombe, 24/02/2002

Colin,

Furgus and you may like to know that the furniture has been much admired by all who see it.

Particular admiration from a craftsman friend of mine who happens also to be the nephew of Jack Goodchild, the well-known chair maker who used to live and work near here in Naphill.

Photos not forgotten and will follow in due course.

Best wishes

Martin.
From a professional, referring to Sack Back Chairs........
"I would highly recommend these chairs for anyone suffering with back problems. They provide a great deal of support for the spine and so may help take the pressure off pain sensitive structures"....Kay Pearce. Chiropractor. BSc(Hons), MSc, DC
From neighbours........
Dear Colin - Just wanted to let you know how much we are enjoying our set of foxy chairs! They are comfortable and look great and every morning when I go into our kitchen and see them I am delighted. Thank you. Mike and Margaret (Blake)